Global Engineers
Engineer assignment which bridges Asia and Japan
Globalization of the manufacturing industry makes it necessary for Japanese corporations to utilize diverse staff. In 2005, Altech Corporation started a unique education model for cultivating Chinese engineers in Qingdao and in recent years we have expanded this education model to Vietnam. Our education model has produced large scale resources of quality global engineers with high affinity and adaptability to Japan.
Features of Alps Global Engineer
1. Hiring Record
We conduct extensive long-term training (15 months; 2000 hours) under the belief that "time is required to cultivate the attitude, knowledge and skills for working in a foreign country." A special long-term curriculum for working in Japan is started one-and-a-half years before coming to Japan. We continually screen applicants not only for technical ability, but also for Japanese language ability, human character and adaptability. Only outstanding engineers are hired.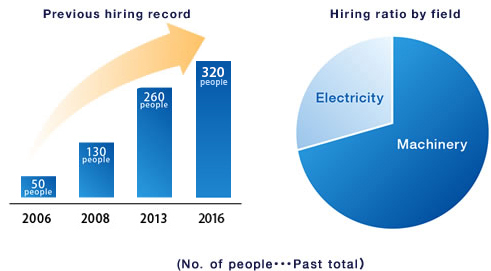 2. Implementation of Information Security Education
Information security education is conducted at our Education Center. Trainees receive a thorough education based on compliance topics such as prohibition of personal viewing of websites during work, virus countermeasures and password management.
3. Stress-free Engineers
The curriculum structure and screening examinations focus on "affinity for Japanese corporations." We conduct education to ensure that personnel feel no stress due to differences in culture and customs. Emphasis is given to a balance between initiative and modesty/cooperativeness.

4. Support System
Our company provides total support in areas such as immigration procedures when entering Japan and housing in Japan. We also offer telephone consultation before coming to Japan in order to support the Japanese lifestyle of Alps Global Engineers.
Example of a Successful Global Engineer
Through training courses, the following workers acquired the necessary Japanese language proficiency, business manners and humans skills. They now work as engineers bridging multiple countries.